What is R.A.M.?

It stands for region­al air mobil­i­ty. The fol­low­ing sec­tions will explain the con­cept of RAM com­par­ing it to UAM under cer­tain impor­tant dif­fer­en­tia­tors char­ac­ter­is­tics such as range, per­for­mance, demo­graph­ics, reg­u­la­tions, and infra-struc­ture.
First and fore­most it is impor­tant to clar­i­fy that urban and region­al air mobil­i­ty are two (2) dif­fer­ent seg­ments of Advanced Air Mobil­i­ty. While they might present some sim­i­lar­i­ties they are dif­fer­ent in their core.
NASA has pub­lished recent­ly a report about the region­al air mobil­i­ty that pret­ty much defines sev­er­al of its characteristics.
In terms of range it defines the region­al seg­ment as 50 to 500 (min) ground miles, and in terms of demo­graph­ics iden­ti­fied part of pop­u­la­tion that prefers to use ground trans­porta­tion, and oth­ers that flock into air­ports for region­al travel.
As seen in NASA's report 98.4% of 50 to 500 miles trav­els are per­formed via ground trans­porta­tion, and 70% of US air­port traf­fic relates to domes­tic air travel.
NASA's report makes a good point that there are many unused domes­tics or local air­ports that can be used for a poten­tial "RAM" ser­vice giv­en that impor­tant envi­ron­men­tal and oper­a­tional require­ments are met.
If those air­ports are a first good start for tra­di­tion­al fixed-wings air­craft that meet the com­mu­ni­ty-friend­ly require­ments, it is worth not­ing that the VTOL (ver­ti­cal take-off and land­ing) air­craft type can take-off and land from a space of 15 meters by 15 meters, which unlocks much more pos­si­bil­i­ties and places to reach.
Range
The range is what dif­fer­en­ti­ates this two seg­ments and address­es spe­cif­ic types of demo­graph­ics (seen lat­ter). Con­sid­er­ing the avail­able infor­ma­tion UAM offers 200 km or 312 ground miles of range. RAM lim­it is 500 ground miles per NASA's report. Q‑Bee offers around 690 ground miles.
The map dis­plays a com­par­i­son of ranges for each seg­ment and what Q‑Bee is being design to accomplish.
Chica­go has been defined as the ref­er­ence cen­ter point for this comparison.
The dif­fer­ence in ranges, at a first look, indi­cates that a grad­u­al­ly an increas­ing num­ber of cities are cov­ered allow­ing for their inte­gra­tion or inclu­sion into a region­al air mobil­i­ty service.
In fact UAM com­pa­nies real­ized that there is val­ue in the RAM segment.
There­fore UAM can also address the RAM demo­graph­ics with­in their lim­it range of 312 ground miles. Does it mean com­pe­ti­tion? Not nec­es­sar­i­ly. It can actu­al­ly mean collaboration.
Mid-size heli­copters have ranges from 300 to 510 ground miles.
Demographics
It explains what seg­ments of pop­u­la­tion or their char­ac­ter­is­tics is served by the region­al air mobil­i­ty. We will also show what UAM's demo­graph­ic is, so we can under­stand each.
RAM Demographics
Region­al ground travelers
Region­al air flyers
Goods
All of those with a min­i­mum trav­el dis­tance of 50 miles for peo­ple and goods.
UAM Demographics
Intra-city (dai­ly commuters)
Inter-cities (dai­ly commuters)
Region­al ground and air travelers
All with­in the lim­it of 312 miles for peo­ple and goods.
Performance
We will look into pay­load, exter­nal noise, and speed as part of the per­for­mance characteristics.
We under­stand that a vehi­cle for the region­al air mobil­i­ty seg­ment needs a speed per­for­mance some­where in between what a mid-size heli­copter and a small jet offers.
Q‑Bee is designed to be 45% to 50% faster than mid-size heli­copters. Con­se­quent­ly it has bet­ter speed per­for­mance than the eVTOLs from UAM.
The ben­e­fit of a good speed per­for­mance relates main­ly with time savings.
Q‑Bee has a pay­load of 1500 pounds, which is in the range of the mid-size heli­copters as well.
In terms of noise, the tar­get is to be at the same exter­nal noise lev­els as the eVTOLs.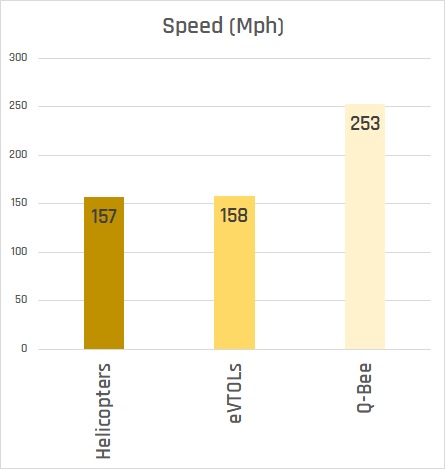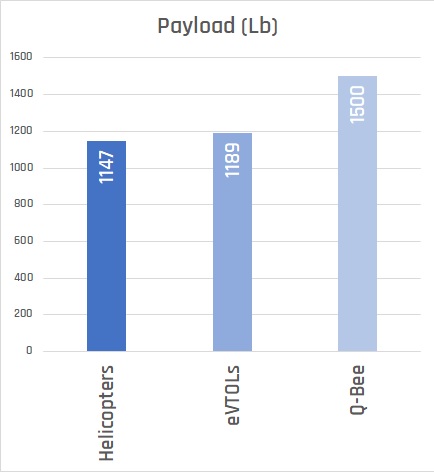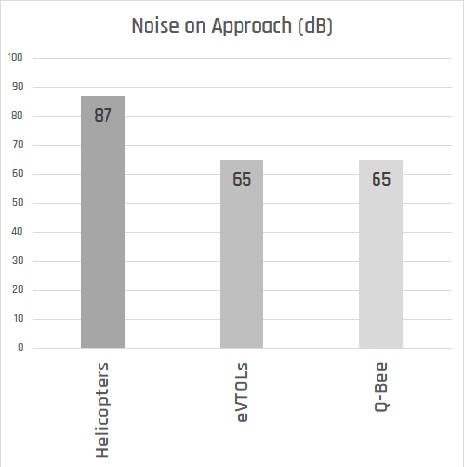 Infra-structure
Infra-struc­ture has to be seen from three (3) per­spec­tives: the phys­i­cal infra-struc­ture, the enabling tech­nol­o­gy, and oper­a­tional. The last two are much interdependent.
One: RAM seg­ment pro­pos­al is to take advan­tage of the low­er usage domes­tic or local air­ports spread the US, there­fore it is not in its mod­el to invest in ver­ti­ports, etc., but use what there is.
Two: The enabling tech­nol­o­gy relat­ed to the pow­er matrix used not only enables each type of vehi­cle for each seg­ment, but also influ­ences the type of oper­a­tional resources nec­es­sary in each airport.
Elec­tri­cal vehi­cles will need charg­ing ports at every air­port which will require invest­ments in elec­tri­fi­ca­tion. The cur­rent debate is about how to build the invest­ment pool in this type of item and how much of an appetite the pub­lic and pri­vate sec­tors will have for invest­ments in this area.
Three: A hybrid pow­er gen­er­a­tion sys­tem, con­sist­ing of bat­ter­ies and a tur­bine, which is Q‑Bee's solu­tion for elec­tric pow­er gen­er­a­tion, does not need any dif­fer­ent or addi­tion­al resource than what already is made avail­able in domes­tic air­ports. This alone rep­re­sents less to no invest­ment at all in extra infra-struc­ture need­ed and makes RAM as attrac­tive as UAM.
Regulations
While the US FAA sug­gests the cer­ti­fi­ca­tion basis used for heli­copters to sup­port the devel­op­ment and oper­a­tion of the new eVTOL designs, Q‑Bee includ­ed, Europe EASA is build­ing its own body of regulations.
Regard­less of the bar­ri­ers imposed by reg­u­la­tions this gets addressed prop­er­ly with­in the cer­ti­fi­ca­tion and devel­op­ment plans each com­pa­ny design­ing for UAM or RAM is adopting.
Bee Fleet is tar­get­ing the US FAA cer­ti­fi­ca­tion first and has cho­sen solu­tions to elim­i­nate or reduce any cer­ti­fi­ca­tion risk.
Do UAM and RAM vehicles compete?
No, the vehi­cles designed for each seg­ment do not com­pete. Let us explain it fur­ther based on the fol­low­ing aspects: prob­a­bil­i­ty of oper­a­tion of a trans­port modal, oper­a­tional costs, enabling tech­nol­o­gy, and design characteristics.
The prob­a­bil­i­ty of oper­a­tion or usage of avail­able modal depends on the amount of miles trav­elled and relat­ed oper­a­tional cost. The graph below dis­plays the prob­a­bil­i­ty of modals based on miles trav­elled. UAM will oper­ate up to 260 NM. Q‑Bee oper­ates up to 600 NM.

Con­sid­er­ing the cost per avail­able seat mile (CASM), UAM's vehi­cles have a low­er CASM for their 260 NM range, so does Q‑Bee for its 600 NM.
Low­er CASM for each type of vehi­cles results from their enabling tech­nol­o­gy. For UAM vehi­cles bat­ter­ies sup­ply 100% of elec­tric ener­gy need­ed for oper­a­tion, how­ev­er lim­it­ed in weight, speed and range; and RAM vehi­cles, in this case Q‑Bee, pow­ered by a hybrid pow­er matrix achieves sim­i­lar CASM by fly­ing longer distances.
Each air­craft is designed for a spe­cif­ic typ­i­cal mis­sion it has to accom­plish, where speed, dis­tance, load, etc. have to be take into con­sid­er­a­tion to achieve the best per­for­mance. There­fore, pret­ty much each air­craft is designed accord­ing to its defined typ­i­cal mis­sion char­ac­ter­is­tics which are defined based on the items list­ed above.
While Q‑Bee is not cost effi­cient for short dis­tances, where­as UAM vehi­cles designs might need to change to per­form longer dis­tances, which explains some sort of nat­ur­al bar­ri­ers for com­pet­ing on each oth­ers seg­ments. What is means is that phys­i­cal­ly and eco­nom­i­cal­ly the com­pe­ti­tion between the two seg­ments is avoid­ed, and if tried either incurs in high costs or a total re-design.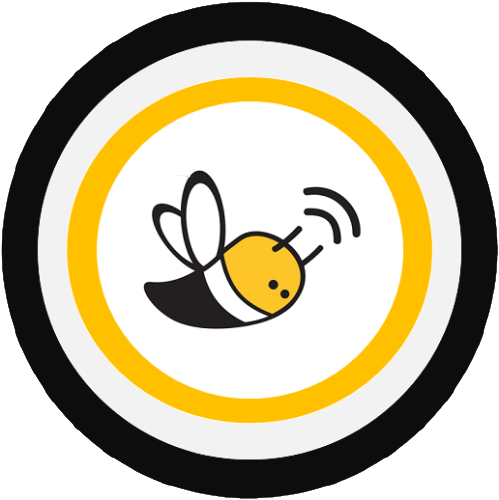 [/et_pb_text][/et_pb_column][/et_pb_row][/et_pb_section]